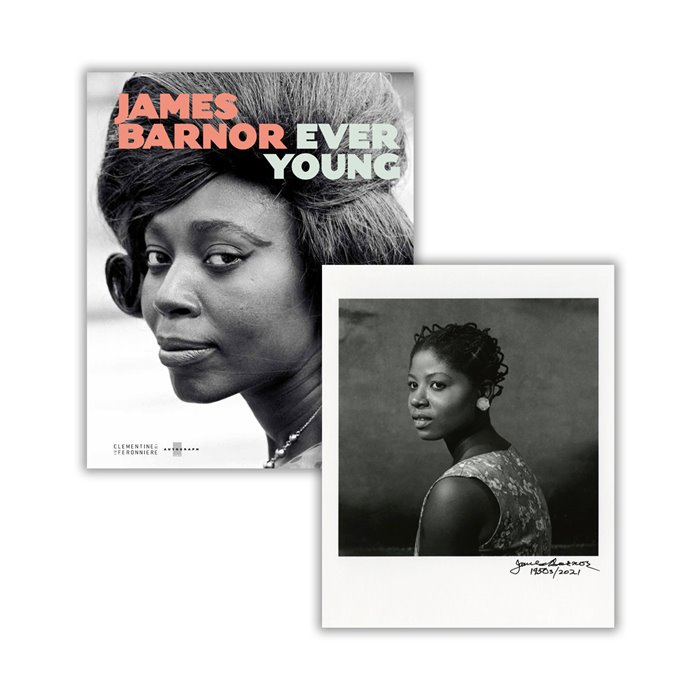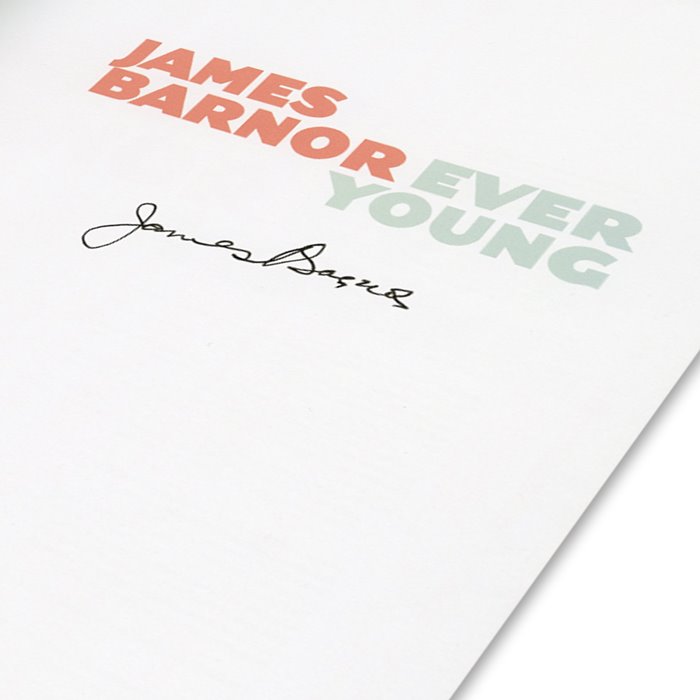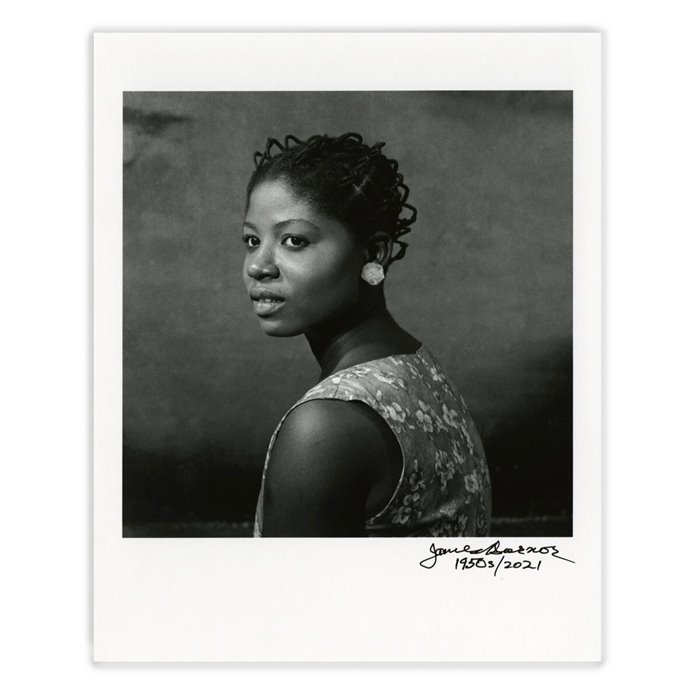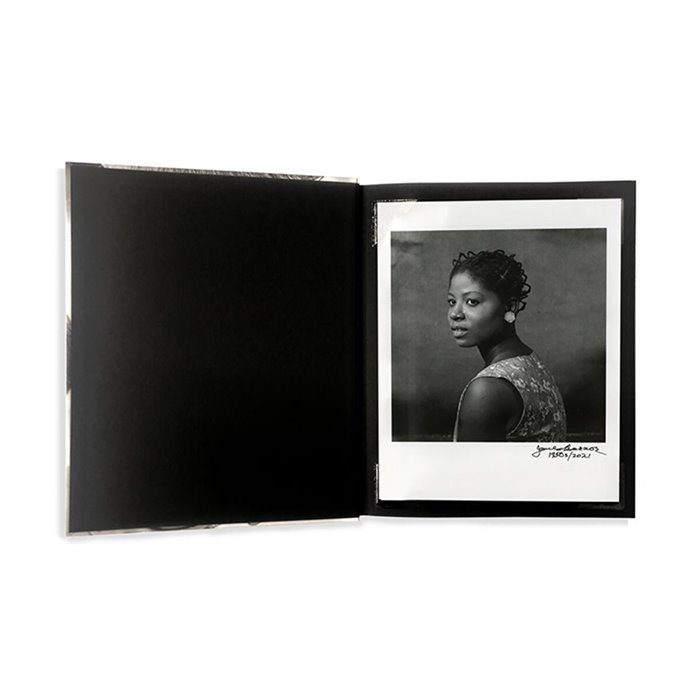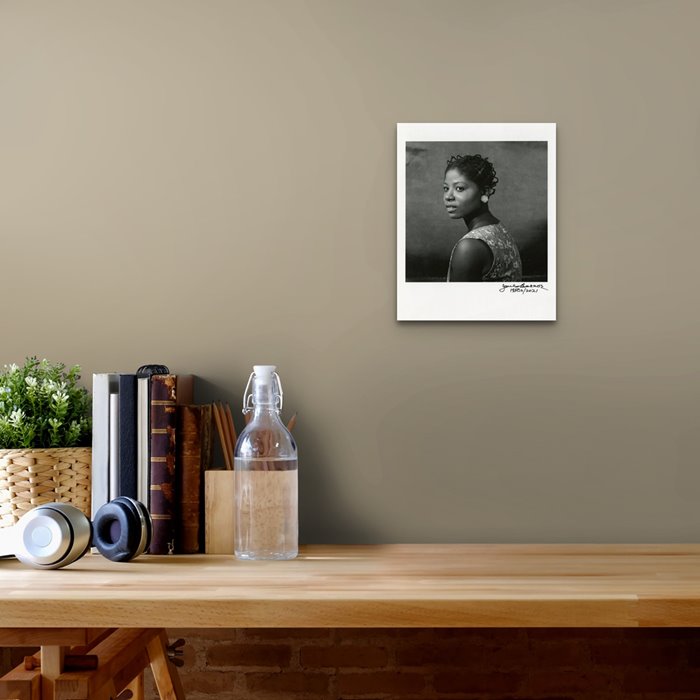 Edition of 30. Exclusively available from Autograph.
Product Description
Born in 1929 in Accra, James Barnor is considered a pioneer of Ghanaian photography. This limited edition features a hardcover photography book containing a print of Barnor's work Ever Young Studio. Taken in 1954, this photograph captures the artist's keen interest in West African women's hairstyles and formal portraiture traditions – beautifully lit, the perfectly poised model was photographed in the Barnor's popular portrait studio in Jamestown, Accra.

The James Barnor: Ever Young monograph features 200 images by the artist from the 1940s - 1970s, texts by Kobena Mercer and Renée Mussai, plus an interview with Barnor by Margaret Busby OBE and Francis Hodgson.

Both the book and print are signed by the artist.
Product Specification
Hardcover photography book containing a 10" x 8" Silver Gelatin print of James Barnor's work Ever Young Studio.
Print
James Barnor, Ever Young Studio, London, 1954/2021
Edition of 30 + 5AP
Signed and dated by James Barnor (recto)
Numbered and certified with stamp (verso)
Fibre-based silver gelatin print
Paper size: 10 x 8 inches
Image size: 7 x 7 inches
Unframed
Due to the organic nature of fibre based paper the art work may not appear fully flattened; this is considered normal with this type of print and does not constitute a fault as such.
Book
James Barnor: Ever Young
Published by Autograph in association with éditions Clémentine de la Féronnière, Paris, in 2015
Edited by Renée Mussai
Signed by James Barnor
176 pages
200 images
41x 26.5cm
Hardcover
Text in English and French
Published as part of the touring exhibition James Barnor: Ever Young
ISBN: 978-2-9542-2664-4
Delivery
We aim to ship orders within 2-3 working days. You will be sent an email when your order has shipped.
International delivery
This price of this product includes VAT. If the delivery address is not within the United Kingdom, VAT will be removed at checkout.
If your delivery address is not within the United Kingdom, you may be subject to import duties, taxes and delivery service charges, which are levied once a shipment reaches your country. Any such additional charges for customs clearance must be borne by you. You should note that customs policies vary widely from country to country; you should contact your local customs office for further information. Please be aware that cross-border shipments are subject to opening and inspection by customs authorities.
What your Purchase Supports
Terms & Conditions
Please note that this sale is for the physical limited edition print only. Copyright is retained by the artist, and this sale does not include reproduction or digital rights for the work.
If resold in the future, the artist may be entitled to the Artist's Resale Right, for more information visit DACS.
Limited Edition prints are released in tiers, and prices may increase as an edition starts to sell out. Prices are subject to change and availability.