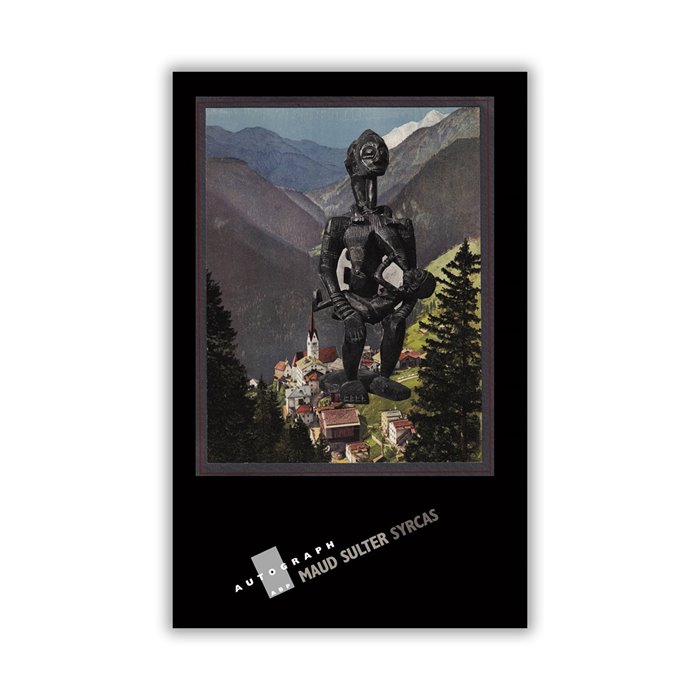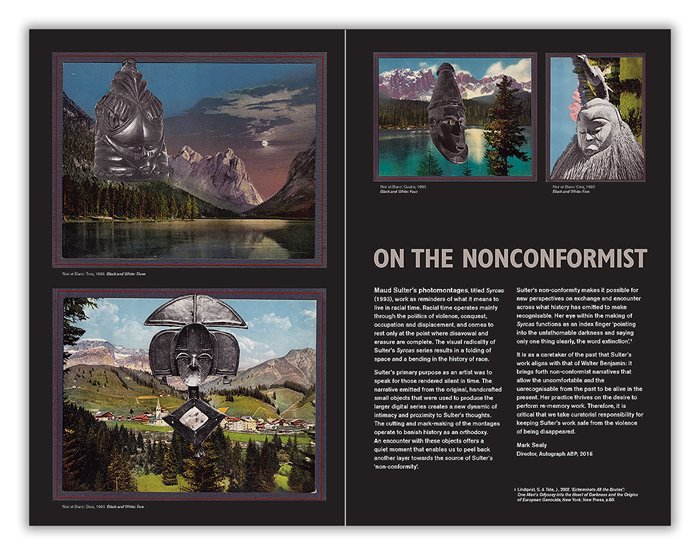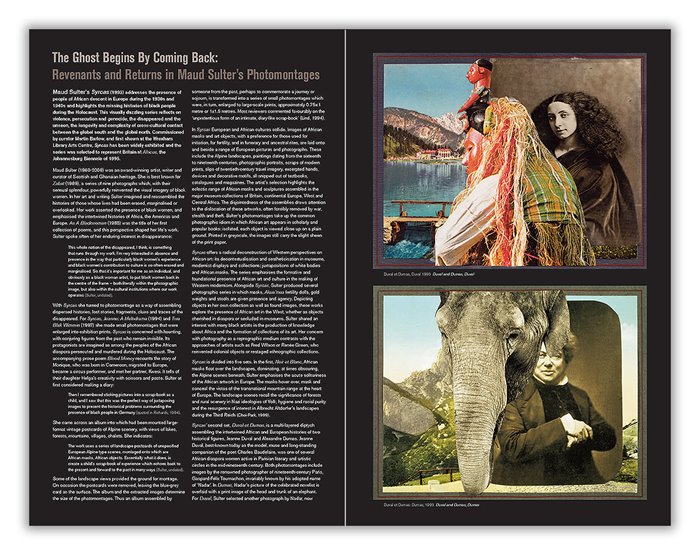 "Syrcas offers a radical deconstruction of Western perspectives on African art" - Deborah Cherry
Product Description
The photomontages in Maud Sulter's series Syrcas aim to revive the forgotten history of the genocide of black Europeans during the Holocaust. Sulter juxtaposes imagery from classical European art history with African art objects, overlaid on vintage postcards of picturesque, unspecified Alpine landscapes.
The photomontages' visual tropes are intimately tied up with Nazi ideology and questions of racial purity as well as African presences in Europe, while the raw montage serves as reference to children's scrapbooks.
This newspaper accompanied Autograph's exhibition Maud Sulter: Syrcas, and features texts by Deborah Cherry and Mark Sealy. 
Maud Sulter (1960 - 2008) was an influential visual artist, poet, playwright and curator of Scottish-Ghanaian descent. Throughout her career and across different media, Sulter questioned the lack of representation of black women in the histories of art and photography, and critically investigated the complex experiences of the African diaspora in European history and culture over the past six hundred years.

Product Specification
Published by Autograph 2016
Pages: 12
Images: 15
Dimensions: 41x 26.5cm
Stapled newspaper

Published as part of the 2016 exhibition Maud Sulter: Syrcas at Autograph, London.
Delivery
We aim to ship orders within 2-3 working days. You will be sent an email when your order has shipped.

International delivery
If your delivery address is not within the United Kingdom, you may be subject to import duties, taxes and delivery service charges, which are levied once a shipment reaches your country. Any such additional charges for customs clearance must be borne by you. You should note that customs policies vary widely from country to country; you should contact your local customs office for further information. Please be aware that cross-border shipments are subject to opening and inspection by customs authorities.
What your Purchase Supports