everyone is welcome at autograph
Autograph's gallery in Hackney, London is open. We care about our visitors, staff, artists and community, and are keeping measures in place to help ensure a safe visit for everyone. We can't wait to see you again.

Since 1988, Autograph has championed photography that explores issues of race, identity, representation, human rights and social justice, sharing how photographs can reflect lived experiences and shape our understanding of ourselves and others. Autograph's gallery is located at Rivington Place in Hackney, London. Our iconic building was designed by Sir David Adjaye and is England's first permanent public space dedicated to diversity in the visual arts.

Getting to autograph
Autograph is in the Shoreditch area of Hackney, in East London.

Autograph
Rivington Place
London EC2A 3BA
View on Google Maps

We are a short walk from Shoreditch High Street, Old Street and Liverpool Street stations. If you are travelling by bus, the 26, 35, 47, 48, 55, 67, 149 and 243 buses stop at the Shoreditch Church and Shoreditch Town Hall. These bus stops are close to the gallery.

Autograph does not have public parking. To find the nearest available parking and rates, we recommend justpark.com. We have two disabled parking bays on-site, to book one for your visit please email adrian@rivingtonplace.org or phone 020 7749 1240.

booking tickets
To help us maintain distancing in the galleries, visitors can book a free, timed ticket before their visit. Once you are in the building, feel free to take as long as you like to view the exhibitions.

Haven't booked a ticket before your visit? No problem! Walk-ups are welcome at the gallery, however during occasional busy times you may have to wait a short while before entering the gallery.

Book tickets for our current exhibition Mónica de Miranda: The Island here. If you'd like to support Autograph's work, there's an option to make a donation with your free ticket.



what to expect during your visit
Everyone is welcome at Autograph. You can expect a friendly and inclusive atmosphere, and safety measures in place to help ensure a safe visit for everyone.

While each person has a different pace when looking at artworks, we recommend allowing 45-60 minutes for your visit.

On arrival: The door to Autograph is on the side of the building, on Rivington Place (off Rivington Street). You don't need to print out your ticket for your visit, just check in at the Reception Desk when you arrive. We ask all visitors to sign in.

Hand sanitiser: Before entering the galleries visitors can sanitise their hands.

Face coverings: Help us keep everyone safe. If you are able to, please wear a face covering during your visit.

Social Distancing: Visitors are asked to maintain a 2-metre distance from others when possible

Toilets: Toilets are open and can be found on the ground floor and second floor. Each floor has an accessible toilet. All toilets are single-occupancy and unisex.

Getting around the building: From March 4, the Poulomi Basu: Fireflies exhibition will be in Gallery 1 on the ground floor and the Sutapa Biswas: Lumen exhibition will be in Gallery 2 on the first floor. 

Visitor Ambassadors in the galleries: Have a question about the art on display? Ask one of our friendly Visitor Ambassadors! They are in the galleries to help with any queries and maintain Covid-19 safety measures.

Social media and photography in the galleries: Share your visit on your social channels ✨ Feel free to take pictures in the exhibitions for social media and personal use, you can tag us at @autographabp. If you want to take photographs with a SLR camera or for commercial use, you'll need to get in touch with us first.

Visiting with children: We warmly welcome families, and caregivers with buggies and prams. Our building is step-free, including the entrance. Baby change facilities are located on the ground floor.

Shop: Books, exhibition posters and postcards are available to purchase at the reception desk, and in our online shop. Display copies aren't currently available to look through at the reception desk. All sales support Autograph's arts and learning programmes.

Support Autograph: Did you know that we are a registered charity? Admission to Autograph's gallery is free, and we ask visitors to please consider donating to support our work. You can donate at the contactless tap points outside the galleries, and online.

Your feedback: Feedback about your visit helps us to improve services and demonstrate our impact to funders. You may be asked to take a survey by one of our Visitor Ambassadors. Paper surveys are also available in the galleries.

Accessibility at Autograph
Autograph is an accessible venue that welcomes people with all types of disabilities. Download our Accessibility Guide here.

Step-free access: Our building has level entrances and step-free access to all areas.

Lift: A lift goes to all floors.

Toilets: Accessible, single-occupancy, unisex toilets are on all floors.

Wheelchairs: The entrance, and all areas of the building are wheelchair accessible.

Seating: Simple benches without backs or arms are in both galleries. If you would like a chair with arms, please ask a Visitor Ambassador and they will get one for you.

Disabled parking bays: We have two disabled parking bays on-site, directly next to Autograph's building. To book one for your visit please email adrian@rivingtonplace.org or phone 020 7749 1240.

Assistance dogs: Registered assistance dogs are welcome.

safety measures
The safety of our visitors, staff, artists and community is Autograph's highest priority; here's what we are doing:

Carefully managed visitor numbers: We have limited the maximum number of visitors in the gallery to help ensure distancing.

Social distancing: We kindly ask visitors to maintain 2-metre social distancing.

Hand sanitising station: is located throughout at reception.

Temperature checks:  Visitors have the option to take their temperature on arrival. A station for temperature checks is located by the reception desk.

Cleaning: We have increased cleaning regimes in all public areas.

Fresh air: Rivington Place has fresh air pumped into all areas.

Contactless payments: To minimise contact, we are only able to accept card payments at our reception desk. Visitors are asked to use contactless payment when possible.

One way system: Is in place where signs indicate

Staff training: All of our Front of House and Visitor Ambassador staff have had Covid-19 awareness training.

Autograph has the "We're Good To Go Mark", the official UK mark to signal that a tourism and hospitality business has worked hard to follow Government and industry COVID-19 guidelines and has a process in place to maintain cleanliness and aid social distancing.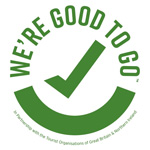 SHARE YOUR THOUGHTS
Can you spare a few moments? Autograph is carrying out a survey to better understand who our digital audiences are. The survey should take no longer than five minutes to complete. Anything you tell us will be kept confidential, is anonymous and will only be used for research purposes.
The information you provide will be held by Autograph and The Audience Agency, who are running the survey on our behalf. In compliance with GDPR, your data will be stored securely and will only be used for the purposes it was given.
You can take the survey here. Thank you!