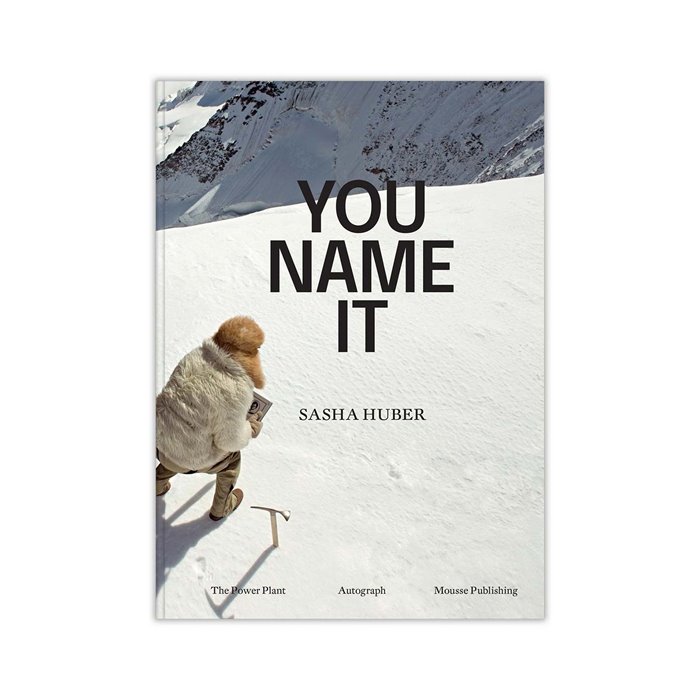 Who and what do we memorialise, and how?
Product Description
Catalogue to accompany the critically acclaimed Sasha Huber: YOU NAME IT exhibition.

This comprehensive publication focuses on the artwork and activism of Sasha Huber. A Helsinki-based visual artist and researcher of Swiss and Haitian heritage, Huber's creative practice encompasses performance, photography, film, mixed media, reparative interventions, and collaborations to investigate colonial residues left in the environment. Her projects conceive of natural spaces—mountains, lakes, glaciers, forests, and craters—as contested territories, highlighting the ways in which history is imprinted onto the landscape through acts of remembrance, including memorialisation through naming and the erection of monuments.

For over a decade, Huber has produced work in relation to the Demounting Louis Agassiz campaign, which seeks to redress the racist legacy of the Swiss-born naturalist and glaciologist. With her artworks, Huber challenges the terms by which we remember, asking not only who and what we memorialise, but also, and more importantly, how we do so.

Product Specification
Texts by Noor Alé, Ariella Aïsha Azoulay, Julie Crooks, Hans Fässler, Paul Gilroy, Sasha Huber, Maria Helena P. T. Machado, Walter D. Mignolo, Temi Odumosu, Mark Sealy, Christina Sharpe, Françoise Vergès, and Gaëtane Verna.

Co-published 2022 by Autograph, The Power Plant and Mousse Publishing
English
189 pages
Hardcover, 19.5 × 27 cm
ISBN 9788867495498
Delivery
We aim to ship orders within 2-3 working days. You will be sent an email when your order has shipped.

International delivery
If your delivery address is not within the United Kingdom, you may be subject to import duties, taxes and delivery service charges, which are levied once a shipment reaches your country. Any such additional charges for customs clearance must be borne by you. You should note that customs policies vary widely from country to country; you should contact your local customs office for further information. Please be aware that cross-border shipments are subject to opening and inspection by customs authorities.
What your Purchase Supports